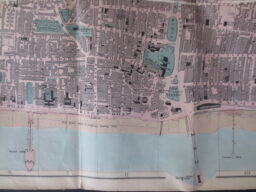 Firstly, I'm sorry not have posted anything for a while. The truth is I have been very busy, out and about meeting all sorts of lovely people and buying some great books too. The first lockdown led to a lot of clear-outs and I was particularly pleased to find this old map in one collection. It features Brighton's familiar coastline – but with three piers!
How so? Our first pier, The Chain Pier, is long gone now. We might be hearing a lot about it soon though: it was opened in November 1823 and the anniversary is bound to be marked in some way. It was a spectacular structure, built primarily as a landing stage for cross-channel ships. It was really a one-ended suspension bridge with the chains buried deep into the cliffs and you can read all about it on an excellent site here.
It was such a success that a rival, The West Pier, was opened in 1866. This was designed for pleasure rather than commerce and was even more popular. So was Brighton, of course – attracting more and more visitors every year and growing into the premier resort in the country. As the Chain Pier crumbled audacious plans were made for a third pier and construction began on Brighton Pier in 1891.
And that is the answer to the quiz. The Chain Pier, already closed, finally blew down in 1896. The Palace Pier was well under way but did not open until 1899. So for a few years – 1891 to 1896 – Brighton truly did have three piers: but they were never open at the same time…
Bacon, 1895. Reprint. The map would have been amended regularly but never had a date written on it - nobody would buy an 'old' map!