Step Right In To The Library of Death…
Bibliomysteries were my first real love as a book collector.
Twenty five years ago I was buying murder mystery books in a rather haphazard way, as novice collectors tend to. One day at a Brighton book fair a dealer grabbed a tatty volume from my '£1 a book' box with the words: "Oh, this is a bibliomystery, I've got someone who wants these…" and I was hooked.
Bib-li-o-mystery. What a great word. It combined two of my loves into one. Could there really be such a thing? I stepped round to the front of my stall and took a book from my own shelves. Greenmask by Anne Blaisdell has a plain yellow Gollancz cover, in this case emblazoned with the words 'Murder by Detective Story!' Well, that seemed to fit the bill. I took it off the shelves in case anyone bought it and my collection had begun. And it took me ten long years to find another copy of the one I let get away: it's a wonderful but staggeringly rare title called Death Among The Writers. One pound, indeed…
The Library of Death took me in and took over my life. I became a proper book collector. I collected with a purpose, actively, and was eventually in touch with dealers and collectors all over the world, fellow sufferers who were only too pleased to swap books, notes and images. I eventually wrote my first article for BMC about bibs in 2008, and another one later for a website which was edited into this.
My love of old books meant that I limited my collection to older titles and I settled on an arbitrary cut off point of 1970. As for the term bibliomystery… As the word suggests it encompasses all aspects of the book world. Bookshops, libraries, authors, publishers… even printers, ancient scrolls and critics can be included, and there are books about all of them.  These days bibliomysteries have caught on in a big way. Authors are always advised to 'write about what you know' and many take that advice… well. Literally.
I still buy and sell bibliomysteries and always take a few to book fairs. I'll feature them in A New Look At Old Books and if you have any titles to sell please get in touch!
Resources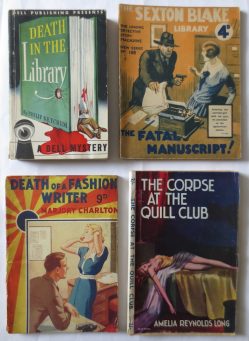 American collector and dealer John Ballinger issued a catalogue of his bibliomystery collection in 1990. It is hard to find now but with over 500 mainly American titles it is a great place to start.
There is an early and possibly unattended site here
There is a very useful list of early work on bibliomysteries here. Happy hunting, as they say…
In 2008 I chipped in with an article and list of mainly UK titles in Book and Magazine Collector No 293.
In recent years Otto Penzler of The Mysterious Bookstore, New York has published new bibliomystery titles. He has also produced a bibliography which is invaluable for modern titles as it goes up to the present day – ie, about a year ago. You can find his site here.