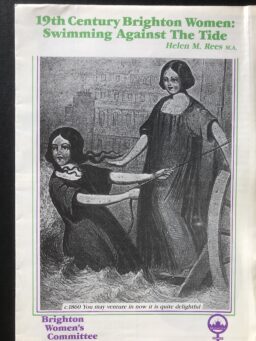 This little pamphlet was issued in 1987 by Brighton Council's Women Committee 'as a contribution to Taking Liberties Week.' Put together by Helen Rees, it has wonderful images of wonderful women who fought against the patriarchal establishment in Brighton and beyond. I have had it since it was issued and sought it out today because of the recent 'controversy'  about the Universal Basic Income. It seems to me that the idea of a guaranteed basic income for all is not only a good idea but absolutely inevitable – rather like votes for women were in the 1870s. Unfortunately, the men running the establishment fought so hard against common-sense it actually took another fifty years for equal voting rights. Fifty years wasted! How long will we all have to wait for UBI?
Don't hold your breath, as they say. It is in the news now – but I first heard of it in 1987, at the very same Green Party meeting where I found this leaflet. And talking of holding your breath, have you been for a swim? The warm weather and closed swimming pools has encouraged more and more people into the sea this year, following our own Martha Gunn who was a bathing machine 'dipper' like the one featured on the front cover. It's healthy, calming, and good for the spirit – something we all need in these troubled times, where good intentions are fought tooth and nail by rulers whom history will prove wrong. Again.
Brighton Council, 1987. First edition. Ephemera is always interesting to collectors as it usually has a short life; I suspect this eight page leaflet is hard to find now.