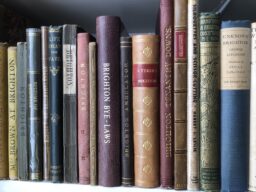 Here is some good news! I am very pleased to announce that on Saturday October 30th there will be a PBFA Book Fair in Brighton at the Racecourse. A book fair is like a huge second-hand bookshop coming to town for the day. There will be literally tens of thousands of old books, maps, and prints for sale; along with photographs, postcards, ephemera and more. I personally will be taking a huge collection of books about Brighton and Sussex and you can expect to find plenty of other items like that too. There will also be books on every other conceivable subject, from pages of ancient illuminated manuscript to modern(ish) paperbacks. There will, in short, be something for everyone.
The Provincial Booksellers' Fairs Association is the largest group of professional book sellers in the world and also one of the oldest – we will be celebrating our 50th anniversary next year. There has not been a book fair of any sort in the city for over twenty years and last year our plans were scuppered by the lockdowns. We must all hope that this one goes ahead as planned. You can find out more about the fair here.
As the year moves on I will keep you up to date. In the meantime I am looking for stock to buy and books to read! Please do get in touch if you have a collection to sell.
First edition. You can expect to find many books like these at the PBFA Brighton Book Fair on October 30th 2021.