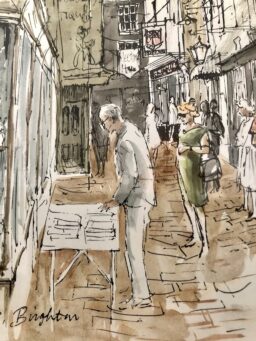 I have set up a facebook group for the PBFA Brighton Book Fair. I'll be posting all sorts of interesting material on the group page as well as the latest news and details about the fair.
There has not been a book fair in Brighton for over 20 years so it is bound to be a big occasion. The image here will be available at the fair on Saturday October 30th. It is a hand coloured lithograph of Meeting House Lane, by Harry Tootall from the 1980s.  A man is hunting for treasures outside a book shop and a stylish young woman is heading over to join him. It is the perfect image to launch the fair because our book fairs are full of bargains, professionally run and you can meet lots of fellow enthusiasts.
At the Racecourse you'll find books, maps, prints, photographs, postcards, ephemera and lots more, on every subject under the sun. My own stall will be exclusively local material. If you have any of the above items to sell (Brighton-themed or otherwise) please do get in touch by email or on 07769 31 88 95. Thank you.
Here is the link to the facebook group.
1980. An original hand coloured print by Harry Tootall.