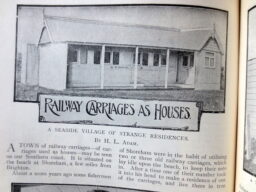 The story of Shoreham's bohemian seaside village is well known but still remarkable. In the 1880s the shingle spit between the River Adur and the sea was used by fishermen, some working from old railway carriages bought from Brighton. One enterprising local bought some land there and advertised the plots in London. They were snapped up instantly and soon rows of railway carriages appeared; each to be converted into a cosy home by the proud owner. And who can blame them? They only cost £10, which in those days was… well. Not that much money. Not anywhere near the two million demanded now for a seafront des-res on the same spot.
My photograph is from Harmsworth's Magazine's Christmas number, published in November 1900. That is too early to mention the second remarkable feature of this area: the UK's largest film industry. There were already film companies along the coast from Hove to Hastings and the filming was done outside in the bright natural light of the sun. At Shoreham it was on a grander scale. The fort was used to support huge backdrops until an enormous glass studio was built along the beach in 1915. Handily, many of the bungalows were owned by bohemian theatrical types already. It really was our very own Hollywood and you can read all about it in the excellent 'Bungalow Town' by Neb Wolters, 'A Shoreham Book' published in 1985.
You can read the whole story and see other photographs from the Harmsworth Magazine here. What you won't find are all the other thrilling features. One short story concerns a flying car – the first in fiction, apparently, which is a strange coincidence. It will not be long before Shoreham's Airport is host to real flying cars, bringing another glamorous boom-time industry to the town.
Harmsworth Magazine, 1900. First edition. The rest of the article is well worth reading!