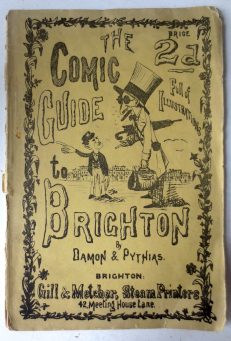 It's freshers week for Brighton students and thousands of super-cool youngsters are sloping into town. Welcome to the party!
Many of you will have suffered the sneers and abuse of the 'straights' in whatever provincial backwater you hail from but we here in Brighton take a far more liberal view, as this little booklet proves. It dates from about 1880 – and just look at the chap on the front cover! Outlandish headgear? Check. Dark glasses permanently in place? Check. Vintage clothes and accessories? Check. And what's that strange aroma coming from the hand rolled smoke? He looks like a local already and could pass unnoticed through our streets today.
The booklet itself is genuinely funny but very hard to find; this is the only copy I've ever seen. I've featured it before but so many people ask about it I thought I'd have another look. It pre-dates our very own 'Cheeky Guide to Brighton' by over a century and like its modern equivalent it '…is not hampered or bound by any puerile consideration of dates, facts or figures.' Neither, I'm afraid, is it any use for those looking for the latest hipster hotspots.  There are all sorts of other sites with Brighton listings but here's a tip – I can highly recommend any event featuring The English Disco Lovers…
Gill & Metcher, Steam Printers., 1880. First edition. Very hard to date; COPAC has [1879] which seems about right.