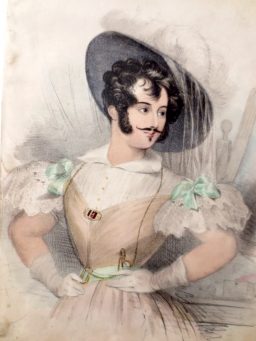 'You never know what you'll find' is more than just a slogan when it comes to P.B.F.A. book fairs. The range of stock is so large and the quality so high that even the professionals are often surprised, and this image has a lot of us stumped.
I bought it at the Christmas Fair at Bloomsbury. It would almost certainly have had a caption and some publishing details but all this has been trimmed away. There's no real mystery about the age, we dated it to the 1830s and this has been confirmed in a very detailed report by local fashion historian and photo expert Jayne Shrimpton. She thought it could be Edmund Kean, a popular actor, and there is some resemblance although by the 1800s female roles were played by women; the time when they were played by young men was long gone.
And is it, in fact, a man? Many of the people I've showed it to immediately assumed it shows a woman and I have to confess that was my first thought as well. So: I'm going to send it to a few more experts and see if we can find out exactly who it is. In the meantime, if anyone has any more information please do get in touch!
Not known, 1830. First edition. hand coloured lithograph