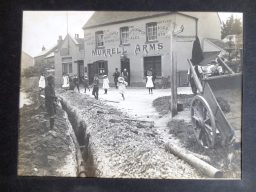 This wonderful image is from an album of 24 large, sequential photographs taken between the 28th of June and the 21st of July 1911. They show a gang of workmen laying a water pipe along the Yapton Road, Barnham, Sussex. The pipe goes under the railway bridge, past the Murrell Arms and along to John Baker's Windmill, also still standing. Some photographs appear to have been taken to deliberately include local workers not involved in the pipe laying such as men in horse drawn delivery carts and farm workers. The album is an official record or log of the work. Many images are paired in the sense that they are taken from the same standpoint but look along the road in either direction, ie looking forward at work still in progress and back at work completed. The men are shown using machinery of some sort (in one view dragging it along behind them) and also captured is a delivery of the pipes themselves. Perhaps the best image is this one. It shows the men outside the pub, probably returning to work after lunch. Their shovels are leaning against the pub wall and a crowd of fascinated children have descended to investigate the dig. The pub, The Murrell Arms, is still there and apparently has a display of local historical items.
The album is a rare record of working-class industry in a recognisable locale. The ordinary nature of the scenes makes them extraordinary: the colossal majority of photographs from this period show middle-class and upper-class life and subjects.
1911. A unique photograph album.