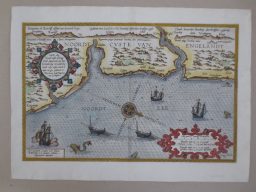 But the sea, it appears, only gets as near as Robin Hood Bay. Still, this is a truly wonderful map. It is bright, clean and crisp and shows the north coast of England, from Robin Hood's Bay up to 'Coket Ylandt', or Coquet Island as we call it today. The map was made by Lucas Waghenaer and dates from 1586. Waghenaer made the first Marine Atlas, showing the coastlines of much of Europe, and I'm delighted to be offering this one at the PBFA York book fair as it is so relevant to the area. The sheet size is 16 inches by 22 inches. As an aside, I am also intrigued by the link between the north-eastern accent and the Dutch words. There seems to be a strong link, hardly surprising when you consider the geographical proximity. And are there still fish that big – or plentiful -in the North Sea?
I'll endeavour to put on more goodies before the York Fair which opens at 12.00 noon on Friday 15th September. You can find the details on the PBFA website or the fair's own dedicated site. I'm at stall 199, by the way, on the so-called  'smart money' third floor. (Apparently collectors in the know up there head first to beat the crowd downstairs.)
Needless to say, those of us up in the gods think this is an excellent idea.
Waghenaer, 1586.