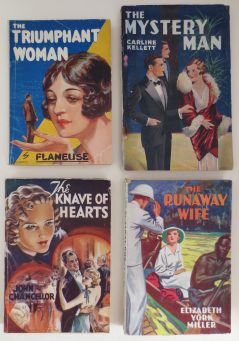 Well I can't resist them. And neither can you. You know you can't. Go on look at them look at them…
Ahem. Where was I? Oh yes. So, if wayward wives, dangerous dames and ruthless rogues are your bag, I've got just the thing for you on display The Paperback and Pulp Fair, Royal National Hotel, Sunday 29th October. These passionate pulps date from the twenties to the fifties and are great fun. They are not easy to find in nice condition and look superb in a row or simply propping up the mantlepiece.* There are a lot on the market now and prices strike me as very reasonable indeed – you can get superb titles for a few pounds each and I'll be buying plenty.
*Propped up ON the mantlepiece, obviously.
Various, 1940s. First edition. Many are the first and only publication; some are reprints. It doesn't matter much in this case.