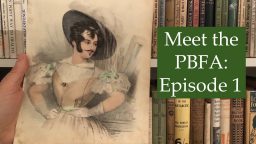 I've always loved book fairs. You never know what you'll find because the quality and variety of the books, ephemera, maps and prints is simply staggering. In the last year alone I've bought and sold Elizabethan vellum documents, unique diaries, Victorian photograph albums and of course yards and yards of gorgeous old books.
I've read cookery recipes from 1599, seen a dust jacket from 1877 and found a map featuring my house. So you can imagine my delight when I was made the publicity officer for The PBFA, The Provincial Booksellers' Fairs Association. The full name is a bit of a mouthful but the main thing to remember is that the PBFA put on the biggest and best book fairs in the country. Walking into one is like walking into a country-house library or museum, except there are no barriers between you and the things you'll find. The National Trust look after the architecture – the PBFA look after our heritage. The works on paper we sell are primary sources of social history and are often supremely important to the individuals, libraries and researchers which buy them.
The PBFA has over 450 members and we're all trusted, experienced book sellers providing completely authentic items. It's all for sale at our book fairs. 'The Death of the High Street' is headline news but like a lot of news there's another side to the story. In this case it's us. The PBFA put on over 50 thriving book fairs a year, from Penzance to Aberdeen and everywhere in between. We travel from town to town and bring the books to you. It's like a massive book shop open for one day only. We bring our best stuff, guarantee its authenticity, and price it to sell. Add in great catering, awesome locations and the thrill of the chase and you've got a perfect day out for the whole family. Experienced collectors have know this all along – the PBFA formed in the 1970s – but we're seeing plenty of new faces at the fairs now which is great news.  More and more people are discovering that PBFA book fairs are the best places to buy, sell, learn, research, meet friends and contacts and have a great day out.
We're making a series of videos about us and our treasures. Here's the first one. We hope you like it – and we hope to see you at a fair soon. You really do never know what you'll find!
There's a calendar on our website here: https://www.pbfa.org/fairs  … and I'm very pleased to say that there's a new fair on the calendar here in Brighton, my home town, at the end of October.