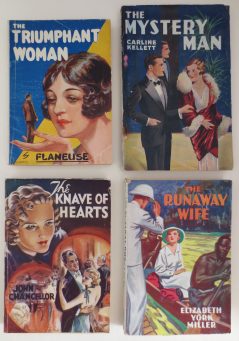 Well I can't resist them. And neither can you. You know you can't. Go on, look at them look at them…
Ahem. Where was I? Oh yes. So, if wayward wives, dangerous dames and ruthless rogues are your bag, I've got just the thing for you on display at stand 199 on the top floor at The York Book Fair, September Friday 15th and Saturday 16th. These passionate pulps date from the twenties to the fifties and are great fun. They are not easy to find in nice condition and look superb in a row or simply propping up the mantlepiece.* The prices range from £7 to £25, which is excellent value.
*Propped up ON the mantlepiece, obviously.
Various, 1940s. First edition. Many are the first and only publication; some are reprints. It doesn't matter much in this case.